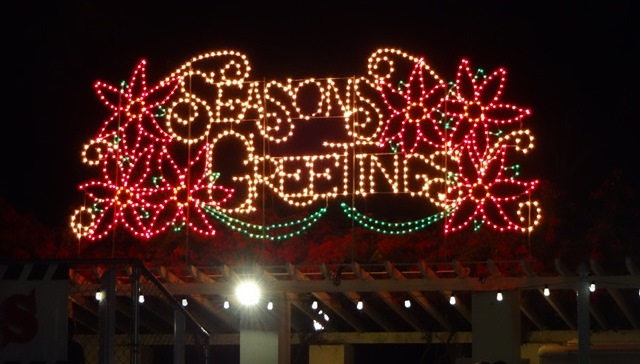 The 2014 Christmas Season in Pictures
Four railroad museums. Three Interstates. Two states. And a partridge in a pear tree!
The Christmas holiday season. It is my favorite time of year, no doubt. How do you blend in my railroad stuff into a Christmas holiday season?
Very simple. Take four different railroad museums from two different states. Mix it in with a couple of Christmas lights displays from St. Petersburg. Put this and that into a web browser and - voila - you have the 2014 Christmas holiday season from Thanksgiving weekend to Christmas Day in a nutshell, right here at EdwardRingwald.com for your viewing pleasure!
So, I lined up two of St. Petersburg's most popular Christmas lights displays - Straub Park in downtown St. Petersburg and the mega Christmas display located at 2719 Oakdale Street South - as well as four different railroad museums, three in Florida and one in Georgia. The end result is a 2014 Christmas holiday season you will enjoy in pictures for your viewing pleasure.
Onward with the sights of the 2014 Christmas holiday season!
2719 Oakdale Street South, St. Petersburg
Since 1977 this display is the granddaddy of all Christmas lights displays in St. Petersburg, and every year it could not have gotten any better! This spectacular display has received not only local media coverage, but national (and international) media coverage as well. There is a website in operation that tells you more about this display plus photos as well; it can be accessed by clicking on this link.
It starts when you approach the light display from the front yard. To truly experience this display walk down the alley which is Bethel Ct S to the entrance. Once inside you can see a computerized light show as well as gigantic displays of Frosty the Snowman and other Christmas related displays. For you railfans out there, there is a model train display featuring a little town which you will like. This display is so popular, plan on spending about 45 minutes at least.
To get there, simply take Interstate 275 to Interstate 175, which is Exit 22. Follow Interstate 175 all the way to the end which will be a traffic signal and 4 St S. Go south on 4 St S for about a mile and a half until you pass 22 Av S; you will want to be in your left lane as soon as you turn onto 4 St S. Right after 22 Av S will be Oakdale St S; turn left and follow Oakdale St S to the end at Bethel Av S. Parking is on the street at Oakdale St S as well as surrounding streets.
As the display at 2719 Oakdale St S is located in a residential neighborhood please be considerate of the residents in the area and use the public sidewalks on Oakdale St S as well as surrounding streets. If you are coming as a group and you are using a large vehicle (such as a bus), you may want to have your driver drop your group off at a designated spot as the streets surrounding the Christmas Display are quite narrow.
The hours of the display are until 10 PM nightly until just after New Years Day. Believe me, when 10 PM rolls around the lights are indeed turned off; this is out of consideration for the surrounding neighborhood.
Straub Park in Downtown St. Petersburg
Downtown St. Petersburg sees a lot of activity. Not only it is home to Christmas lights and activities for the family it is also home to St. Petersburg's annual 4th of July celebration as well as a host of other activities and events held throughout the year.
The majority of the Christmas events take place in North Straub Park is located between 5 Av NE and 2 Av NE, sandwiched between Beach Dr NE and Bayshore Dr NE. The Museum of Fine Arts is located on the east side of Beach Dr NE north of 2 Av NE. You can reach the park from Interstate 275 by using Interstate 375 east (Exit 23) and following it all the way to the end which will put you onto 4 Av N. Continue east on 4 Av N for five traffic signals to Beach Dr NE; the park is straight ahead and you cannot miss it. Parking is on side streets in the vicinity, but be aware of the time limits posted (and make sure you bring plenty of change for the meters or use your cell phone to pay for parking - St. Petersburg's parking enforcement finest do write parking tickets, even on weekends especially when there is a special event).
Some of the Christmas displays in downtown St. Petersburg can also be found northeast of downtown St. Petersburg, the upscale Snell Isle community as well as Shore Acres.
The Polar Express at the
Gold Coast Railroad Museum, Miami
Let's get started on our four railroad museum Christmas journey by heading south from Tampa to the Gold Coast Railroad Museum, which is located on the grounds of Miami Metrozoo (Zoo Miami) in the southern part of Miami near Homestead. But before we go further, let's talk a little bit about this railroad museum I found when I took one of my Labor Day trips to the Miami/Ft. Lauderdale area.
Founded in 1956 on the site of what used to be the Naval Air Station Richmond (Florida, that is), the Gold Coast Railroad Museum is a comprehensive railroad museum housing over 30 historic trains including several coaches and sleepers that are on display. On the weekends, train rides are offered on the museum's own track using historic locomotives and equipment including the Atlantic Coast Line 1804 locomotive (an EMD GP-7m) and the museum's recent acquisition, an ALCO S-2 locomotive from Kennedy Space Center donated by NASA (NASA 2). In addition to the standard gauge equipment on display, there is a collection of narrow gauge equipment as well. There is also a model railroad exhibit - for you model railroad buffs out there, you will have a great time taking a look at what is out there.
Did I say train rides? On the weekends, you can ride as a passenger or even ride in the cab of the locomotive! Better yet, to fully appreciate the railroad experience sign up to be a crew member for a day for an all day railroad experience you will never forget. Not only you'll become a member of the Gold Coast Railroad Museum, you will learn all aspects of train operations depending on the crew member for a day package you sign up for. Believe me, once the day is over you will gain an excellent knowledge of all aspects of railroading from being a conductor to being the engineer!
In addition to the regular weekend fare, the Gold Coast Railroad Museum hosts a number of events throughout the year, including Day Out With Thomas and The Polar Express. The Gold Coast Railroad Museum website has more details.
The Gold Coast Railroad Museum is located on the grounds of Zoo Miami at 12450 SW 152nd Street in Miami, which is about a mile and a half west of the Florida Turnpike. It is a about a 3.5 hour trip from Tampa via Interstate 75 south including the Alligator Alley to Exit 5, which is the exit for the Florida Turnpike. South on the Florida Turnpike to Exit 16, which is SW 152nd Street. West on SW 152nd Street for about a mile and a half to the entrance for Zoo Miami; turn left and follow the signs to the museum. It's the best trip to Miami from Tampa you'll ever make!
In addition to Interstate 75, there is Amtrak service to Miami as well as Southwest Airlines nonstop service to Ft. Lauderdale. Car rental can be obtained from either Ft. Lauderdale or Miami airports at their consolidated rental car centers. (Presently a cab ride is required from the Miami Amtrak station to the consolidated rental car center at Miami International Airport; however, that will change when Amtrak begins Miami service from the new Miami Central Station.)
The Polar Express is the movie of the same name brought to life. If you have seen the movie, whether at the theaters when it opened or on DVD, you and your family will enjoy every minute. As with most railroad based Christmas events, getting tickets early is well advised in order to avoid disappointment.
By the way, your webmaster is a proud member of the Gold Coast Railroad Museum.
The Santa Express at St. Mary's Railroad,
St. Mary's, Georgia
Let's head north up the Florida east coast on Interstate 95 through Daytona Beach, St. Augustine and Jacksonville and cross over the St. Mary's River into the Peach State of Georgia. Right after you cross the St. Mary's River and exiting Interstate 95 at Exit 3 and heading east on GA 40 for about five miles you will reach the town of St. Mary's and the home of another tourist railroad, the St. Mary's Railroad.
But first, a little history according to Wikipedia. The St. Mary's Railroad was founded in 1865 as the St. Mary's and Kingsland Railroad. After the death of its founder, Captain Lemuel Johnson, in 1918 the railroad was sold to the Southern Fertilizer and Chemical Company in Savannah. The railroad was sold again in 1939 to the Gilman Paper Company/St. Mary's Kraft Corporation and assumed its present name. A half a century later in January 1999 the St. Mary's Railroad was merged into the Gilman Paper Company which was sold to the Durango Paper Company in December of that same year. Unfortunately the Durango Paper Company closed its doors in 2002 after two serious industrial accidents which resulted in substantial fines from OSHA. The St. Mary's Railroad was purchased by Boatright Companies in Birmingham, Alabama in 2007.
The St. Mary's Railroad offers themed railroad excursions throughout the year, ranging from Wild West Steam and Peter Cottontail events to America's Birthday, Halloween and Santa Express excursions among a few. The station where you board the train is also a stage theater called Theatre by the Trax which offers a variety of theatrical productions put on by the St. Mary's Little Theatre throughout the year. It makes for a perfect trip!
The St. Mary's Railroad website has more details on the train rides offered and ticket prices. Advance purchase is highly recommended especially for high profile events such as the Santa Express as they tend to sell out quickly. You can purchase tickets for their events on their website.
The St. Mary's Railroad is located at 1000 Osborne Street (GA 40) in St. Mary's, Georgia. It's a 3.5 to 4 hour trip from Tampa via Interstate 4 east through Orlando to Interstate 95 in Daytona Beach; follow Interstate 95 north from Daytona Beach past St. Augustine and through Jacksonville (there's a beltway around Jacksonville, Interstate 295, if you want to avoid the congestion in the metro Jacksonville area) and cross the Georgia state line and exit at Exit 3, GA 40 to Kingsland and St. Mary's. East on GA 40 for about five miles to 1000 Osborne Street; the ticket office and theater are on your left just before you cross the railroad tracks. As lodging in St. Mary's can be on the expensive side, there are a host of reasonably priced hotels in nearby Kingsland in the immediate vicinity of Interstate 95.
NOTE: While US 301 may be a shorter alternative between Tampa and Jacksonville, I do not recommend it because of the two towns which are notoriously known for being traffic enforcement traps.
On a side note for you railfans out there, Folkston - the home of the Folkston Funnel where virtually all CSX trains have to pass through in or out of Florida - is 30 miles west of St. Mary's on GA 40. Folkston makes for a great side trip; plan on spending at least a half a day not only watching trains but there is a rail museum nearby.
The Santa Special at the
Orange Blossom Cannonball, Tavares
Sadly, the Orange Blossom Cannonball ceased operations on Sunday, 29 January 2017 with the final rides being held. This section of Christmas 2014 is dedicated to the people of the Orange Blossom Cannonball who worked very hard to keep the finest excursion train ride in Central Florida going.
Did you have all that Georgia fun at the St. Mary's Railroad? Let's head back onto Interstate 95 and back across the St. Mary's River into Florida and through Jacksonville to Daytona Beach. Once at Daytona Beach we'll head west on Interstate 4 through Orlando and switch over to the East-West Expressway (FL Toll 408) and head west to the Western Beltway (FL Toll 429). A jaunt northward on FL Toll 429 plus the Orange Blossom Trail (US 441) north takes us past Mount Dora into Tavares and the Tavares station of the Orange Blossom Cannonball railroad!
The Orange Blossom Cannonball is a tourist railroad that runs between Tavares and Mount Dora on the weekends with special events held throughout the year. What makes the Orange Blossom Cannonball stand out is that it is a train that had a role in several movies such as This Property is Condemned, Boxcar Bertha, True Grit, 3:10 to Yuma, O Brother, Where Art Thou and Rosewood among a few. With several runs throughout the day on both weekend days you can board the train in either Tavares or Mount Dora, ride the train to either destination, check out the sights and come back on a later train the same day. The equipment used on the Orange Blossom Cannonball ranges from passenger cars built in 1915 and a caboose that was built in 1918. The train is fully equipped with a concession stand on board where light snacks and drinks can be purchased.
On a regular ride day I would recommend boarding the Orange Blossom Cannonball in Mount Dora and riding it to Tavares. As the train is open seating, sit on the left side of the train and enjoy the splendid view of Lake Dora as you pass through the Florida that once was before the land of Interstates 75, 4 and 95 as well as the Florida Turnpike. As the train nears the Tavares station, if you are seated in the rearmost car you can watch the crew in action as they switch tracks and perform a reverse move into Tavares. Once in Tavares you can either stick around for the return trip to Mount Dora or go explore Tavares and catch the next train back to Mount Dora (be sure to check schedules at the ticket office where you board).
The line that the Orange Blossom Cannonball operates on is owned by the Florida Central Railroad, one of three short line railroads owned by the Pinsly Companies, which is similar to the Florida Railroad Museum in Parrish operating on 6.5 miles of track owned by Florida Power and Light. The line connects from Mount Dora and Tavares south to Orlando, making the connection to the North American railroad network in downtown Orlando at a place called the Robinson Connection on the Central Florida Rail Corridor, which is known as the A Line that used to be owned by CSX until the Florida DOT purchased it from Kissimmee to DeBary and the site of Orlando's SunRail commuter railroad.
The Inland Lakes Railway used to operate on the same tracks as the Orange Blossom Cannonball and used to operate various excursion trains ranging from dinner trains to sightseeing excursions to Orlando. In fact, the Inland Lakes Railway used to have excursions that would take you from Tavares to Orlando in order to attend Orlando Magic basketball games. Unfortunately the Inland Lakes Railway ceased operations in 2009 and its equipment is being divested. The Florida Railroad Museum is a beneficiary of one of Inland Lakes' equipment: The GP-9 locomotive, the 8330, that is now in regular Florida Railroad Museum service.
Sadly, the Orange Blossom Cannonball ceased operations on Sunday, 29 January 2017 with the final train rides being offered.
The North Pole Express at the
Florida Railroad Museum, Parrish
Let's round out our four railroad museum Christmas train journey by heading back from Tavares on US 441 to Apopka and FL Toll 429. Next we'll head west on Interstate 4 past Lakeland to Tampa and Interstate 75. From there we'll head south on Interstate 75 into Manatee County and to Exit 229, CR 683 into Parrish. Five miles on CR 683 to US 301 and south to 83rd Street East you will find yourself at the Florida Railroad Museum, where you get to ride the exhibits!
The Florida Railroad Museum offers train rides throughout the year (excluding the weeks of Christmas and New Years as well as Easter Sunday when the museum takes a break). Regular train rides are offered as well as themed train rides offered at various times throughout the year. Among the themed train rides the Florida Railroad Museum offers includes Hole In The Head Gang Train Robbery, Hobo Campfire Cookout, Murder Mystery Express, Day Out With Thomas, Peter Cottontail Express, Pumpkin Patch Express, Von Kessinger's Express (a World War II reenactment) as well as the Christmas themed North Pole Express, the museum's most attended event.
The Florida Railroad Museum operates on 6.5 miles of track between Parrish and Willow in Manatee County, on track owned by Florida Power & Light as access to the nearby power plant in Parrish had to be kept. The line was laid in 1903 by Seaboard Air Line (which was the Florida and West Indies Steamship Company, a predecessor to SAL) and the line you are riding on used to carry passenger trains including the section of the Silver Meteor between Tampa and Venice. Upon the ACL-SAL merger into Seaboard Coast Line (SCL) in 1967 and the subsequent takeover of passenger service by Amtrak in 1971, SCL - later becoming today's CSX in 1986 - favored the other rail route paralleling US 41 and began to abandon the route through Willow and Parrish but a good section of the route was saved. Today the line the Florida Railroad Museum runs on is connected to the North American railroad network via a connection to CSX in Palmetto.
When you come on board, choose from one of the many cars ranging from the air conditioned ACL 250 lounge car to the open air cars such as the SAL 821, the open air car that has a lot of civil rights history to it when it was a "Jim Crow" car back in the days when segregation was the rule. During the summer months the ACL 250 car gets a lot of ridership not only due to its air conditioning, it is also where the museum has its concession stand where light snacks and drinks can be purchased.
Once the train is underway, feel free to move about the train and check out the cars on board. You will get to see the Florida that once was back in the days when railroad travel was indeed the way to go, before the era of Interstates 75, 275 and 4 as well as air travel on Southwest Airlines flying out of Tampa International Airport, not to mention today's contemporary train travel on Amtrak. Just before the train arrives in Willow, go to the open air gondola car and watch the train crew perform the locomotive runaround where all the switching takes place. Once the locomotive runaround is completed, your car host will explain the history of the town of Willow, which used to be a company town for a sawmill in the 1920's which prospered until the Great Depression in 1929 and an attempt to restart the mill a few years later. Willow is also home to the Florida Railroad Museum's maintenance yard, where railroad cars are stored awaiting restoration.
Before or after your train ride, be sure to browse through the gift shop as well as the Bradenton sleeper car. The Bradenton sleeper car was built in the late 1940's and is a Pullman sleeper car that it truly used to be before today's era of Amtrak's Viewliner sleeper cars. The Bradenton saw service in Seaboard Coast Line (and predecessor Seaboard Air Line) as well as Amtrak for some time. It is in the process of being restored further.
The Florida Railroad Museum is located at 12210 83rd Street East in Parrish in Manatee County. From Tampa head south on Interstate 75 to Exit 229, which is CR 683/Moccasin Wallow Road to Parrish. From St. Petersburg, head south on Interstate 275 over the Sunshine Skyway Bridge to Interstate 75; you will want to go north like you were going to Tampa but you will get off at the next exit, Exit 229/CR 683. East on CR 683 for five miles to US 301, then south on US 301 to 83rd Street East which will lead you to the museum entrance. Parking is on site, but plan on arriving early for themed train events due to congestion. Advance ticket purchase is recommended especially for the themed train events, especially for North Pole Express as tickets go on sale the week of Labor Day in September and tickets do sell out quickly.
Have you thought about becoming a member of the Florida Railroad Museum? Being a member has a lot of benefits, including free rides on regular ride weekends and early ticket purchase for certain events including North Pole Express a week before the public sale date in September. If you dream of being on a train crew including being a locomotive engineer, as a member you can volunteer to be on the train crew and work your way up the various positions from Car Host through Conductor all the way to Engineer. If you think this is something that you would really like to do you can sign up for membership right on the Florida Railroad Museum's website or you can pick up a membership application at the gift shop or your Car Host can give you a membership application on board!
The Florida Railroad Museum website also has more details including admission prices for the regular rides and themed rides, as the themed rides are priced differently from event to event. Your webmaster is a proud member of the Florida Railroad Museum.